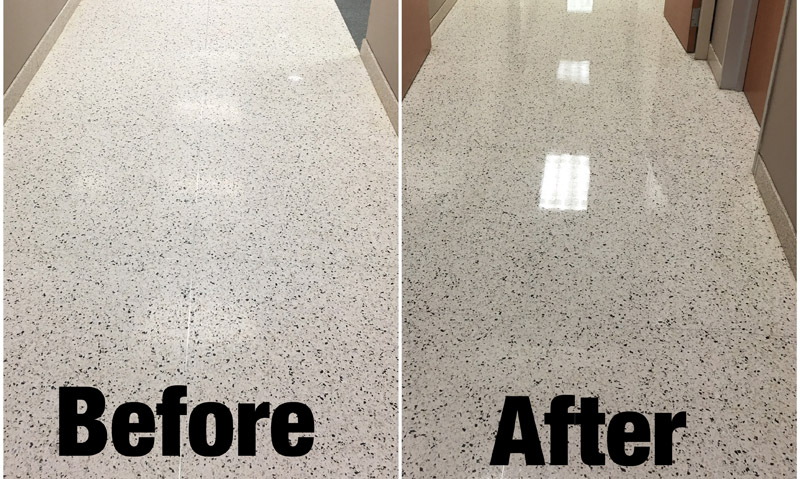 Terrazzo is one of the oldest flooring styles, but it's still popular, even after all these years. In terrazzo, marble or granite chips are set in concrete or cement and polished, to provide a smooth surface. Unlike marble or granite slabs, terrazzo offers the potential of innovative designs and color combinations, and does not compromise the strength of the floor in any way.
The process of laying terrazzo floors is fairly simple, but still requires the use of the right tools to secure a floor that will last. With proper cleaning and polishing, terrazzo can develop a brilliant shine.
First, apply a cleaner to the floor using your mop. Mop the floor with a clean, damp mop to remove all remaining cleaner and dirt before polishing. Allow the floor to air-dry overnight once all cleaner has been removed.
Then, mix the marble and cement, or the other materials in use, pour it on the surface, grind it down flat and smooth it out to the required finish.
Using an applicator brush or floor roller to apply a terrazzo sealer and multiple coats of floor wax or finish to your floor. Wipe away excess sealer and allow the floor to dry overnight before proceeding.
Terrazzo grinding and polishing are the two critical tasks for the next of the work.
For an uneven terrazzo floor, it can be grinded with metal bond grinding tools, such as diamond grinding shoes, diamond grinding plates or diamond grinding cup wheels. After grinding smoothly, the works of floor polishing start.
For a flat terrazzo floor, it can be polished with diamond polishing pads directly. The grits of diamond polishing pads range from 50# to 3000#. Polish the floor to a high gloss finish you require. After terrazzo floor is polished, dry the terrazzo floor with a suction machine.
After the terrazzo floor dry, you can use diamond burnishing pads with waterstone permeation solution to final polishing. Then the floor will turn out to be a mirror-like finish which also very shine.
The terrazzo grinding and polishing process uses diamond abrasives categorized according to grit size. Lower number grits are coarser and higher number grits are finer. Diamond polished terrazzo maintains its shine for a very long time. To protect terrazzo floors and minimize the risk of damage, choose supplies and equipment designed specifically for polishing and cleaning terrazzo. When you are looking for terrazzo grinding tools or polishing pads, you could choose TransGrind. We hope you have a glossy and smoothly terrazzo floor after grinding and polishing with our products.