Concrete, which we have seen in our daily life, is an important and indispensable material for construction. It is made up of cementitious materials (binders), coarse and fine aggregates (sand, stone), water and other admixtures in proportion. Artificial stone hardened under appropriate conditions.
With the advancement of technology, concrete manifestations are becoming more and more diverse, such as fair-faced concrete, decorative concrete, waterproof concrete, polished concrete floor and so on.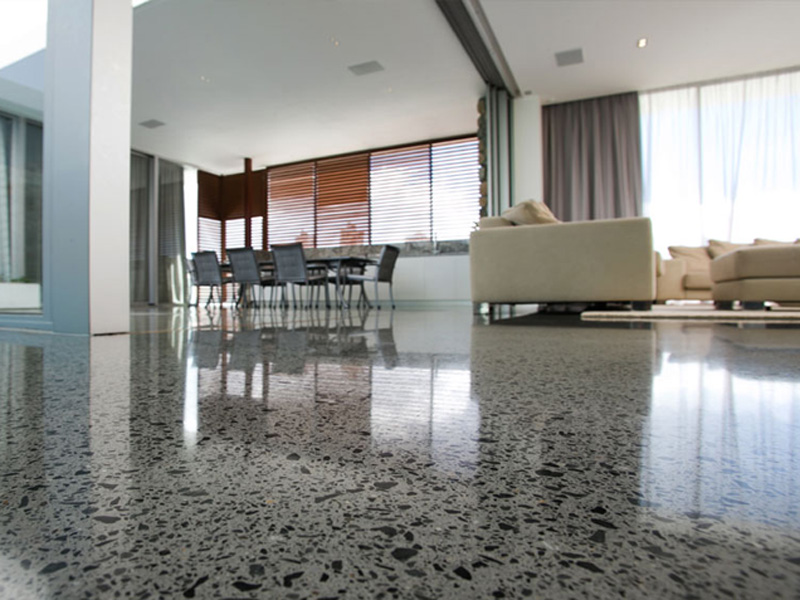 Definition of polished concrete:
The concrete floor is polished by a grinding machine and using a hardener under the combined action of chemical and physical. A concrete floor with a certain gloss and high hardness.
Advantages of polished concrete:
1. Beautiful. Through polishing, various pre-added aggregates in the concrete are presented, with a certain decorativeness.
2. Environmental protection, sustainable. Raw materials are environmentally friendly and pollution-free, and can directly polish the existing concrete floor, which is an environmentally friendly floor solution. Moreover, it has been proved through practice that high-reflectivity polished concrete floors can increase natural brightness and have a certain effect on reducing lighting energy consumption.
3. Hygiene, no dust. The sealing curing agent acts on the concrete and can inhibit the precipitation of dust from the surface pores for a long time. It can also reduce allergens and inhibit the growth of mold.
Application of polished concrete:
Suitable for floors in various commercial and industrial fields. Especially in areas with high frequency of use and certain requirements for ground hardness, such as logistics centers, warehouses, etc. TransGrind offers premium resin floor polishing pads and diamond floor polishing tools for concrete floor honing and concrete polishing to help create super shine and longevity for your concrete floor.