There are a number of aspects that you should consider when choosing diamond grinding tools. They include:
Bond material
Segment bond is essential when it comes to the durability and performance of a diamond tool. In the early grinding industry, diamond tooling only consisted of resin bond and metal bond. Today, the list now includes more options, including ceramic, copper or hybrid diamonds, which are a mix of both metal and resin bonds. In addition to hybrid diamonds, there are also PCD tooling which are usually used to remove adhesives and coatings. Therefore, you should consider the type of material used to make the tool to ensure that you choose a more durable option.
Grit size
Grit is a word used to mean the size of the diamonds in a diamond tool. The lower the grit, the larger the size of the diamond tool, and vice versa. Generally, larger diamonds are used to expose the aggregate while smaller diamonds will hone or polish the surface.
Segment shape & number
The grit size is not the only aspect that affects the aggressiveness of the diamond tool, the diamond segment shape does as well. Generally, segments with sharper leading edges tend to deliver more aggression, while tapered shapes tend to deliver better dispersion when oriented in the right direction. The more segments a diamond tool has, the less aggressive the tool is and the smoother the finish.
Condition of the floor
In addition to the above aspects, you must consider the type and condition of the floor you are working on. Knowing whether you're working on hard, medium or soft concrete will enable you to choose the right bond of the diamond grinding tools and significantly increase work efficiency.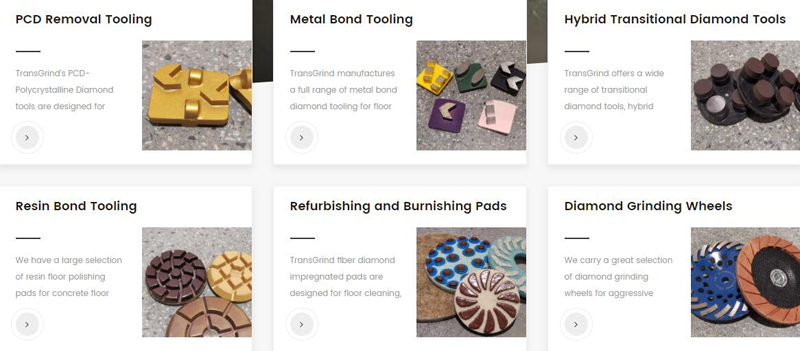 As a professional diamond tools manufacturer and supplier,TransGrind has rich experience in manufacturing different diamond grinding tools for grinding and polishing concrete, as well as removing different coating types, including paint, glue, adhesive and epoxy. We have a variety types of diamond tools that are ideal for your project. For example, PCD coating removal tools, hybrid transitional diamond tools, metal bond diamond grinding tools and resin bond diamond polishing pads, diamond refurbishing and burnishing pads.